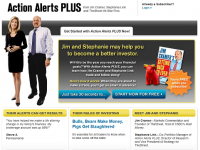 Action Alerts Plus is a newsletter by Jim Cramer. Never heard of him? Well, you must be either outside the US or never watch TV.
Jim Cramer hosts the Mad Money show on CNBC and he's one of those guys that probably has most people reaching for the TV remote double quick!
Thing is, love him or hate him he has a pretty good long-term track record of making serious dough for himself and his clients. And with Action Alerts Plus you can get in on the action!
In short Jim gives you full access to his portfolio and e-mails you buy and sell orders. He also provides a weekly round-up of trades and briefly discusses his thinking. No in depth analysis of the reasoning behind his picks but that might not suit everyone anyway.
Just follow along as he trades… sounds simple, right?
And in a crude way it is indeed simple. However bear in mind that like any trader Jim has his winners and losers so you may need a pretty reasonable amount of capital to stay the course (so that you too can ride the winners but be able to take a hit now and again.)
Also, and this is very important. Depending on the timing during the week you will receive his stock picks… he then suggests the same picks on the Mad Money show… he's got a pretty big following so…
Well, I'm sure you don't need us to spell it out.
One thing you might want to try is to get into any buy recommendations he suggest in the newsletter. Then when they are mentioned on the show, look to sell at the inevitably spiked price.
Or you could take his suggestions and augment them with your own research and analysis.
If you really don't have the time to do your own in depth research and analysis on which stocks to buy then following along with a proven winner like Jim could be your best option.
Oh… and did we mention you can try out Jim's recommendations for free for 14 days! Worth a look we think.
Click here to see our Review Disclosure Policy.