Average User Rating: TradeMonster Review, 6.0 out of 10 based on 14 ratings (see user reviews):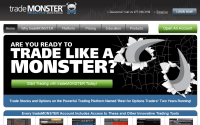 Website: www.trademonster.com
Fees: $7.50 / stock trade. +$15 for broker assisted. Options minimum $12.50 / contract.
Account Minimums: None*
Transfer Fees: N/a.
Virtual Trading: Yes
Trading Platorm: Extensive and advanced trading strategy and predictive platforms.
Tools / Resources: Excellent training guides for options trading.
Customer Service: Very good.
*$2000 for margin accounts. Foreign customers allowed.
Background: TradeMonster was founded in 2007 and is a subsidiary of optionMONSTER ® Holdings, Inc., and combines not only an excellent trading platform but also advanced educational resources.
TradeMonster is a member of the Securities Investor Protection Corporation (SIPC), which provides protection for accounts up to $500,000 (including $100,000 for claims of cash) per client as defined by SIPC rules.
Pricing: TradeMonster offer a flat rate fee of Just $7.50 per stock trade regardless of the number of shares traded. Option contracts start a $12.50 per trade.
Types of Account: TradeMonster offer the following accounts: Individual, Joint, Trust, Partnership, Investment Club, Corporate Accounts, IRAs.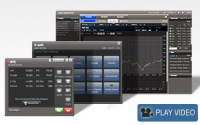 Trading Platform: TradeMonster have an extensive array of up to the minute trading tools. Spectral and Snapshot analysis, detachable windows to enhance your chart monitoring and even Twitter integration tools.
There are various trade simulation and portfolio management analysis tools so that you can 'predict' the impact on your investments of different stock and option strategies.
TradeMonster offers regular webinars, seminars and live events covering a broad range of topics from navigating around the TradeMonster platform to advanced options strategies.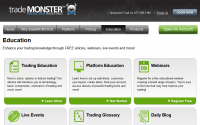 Tools / Resources: TradeMonster has some excellent guides on trading from basic to advanced. But their training is geared up for options so if you are looking for the basics of stock trading you won't find it here.
There are extensive training PDFs for you to download.
You don't need an account to get the training but you do have to sign up for it. It's free but that will put you on their mailing list.
Virtual Trading: TradeMonster offer a virtual trading account called paperTrade for both stocks and options.
Click here to see our Review Disclosure Policy.
TradeMonster User Reviews
GD Star Rating
loading...
Please rate TradeMonster from your own experience via the comment form below:-