Being a full time stock trader is a dream for many of us.What better way to kiss goodbye to the day job and be in control over your own financial destiny.
With the advent of online stock trading, available to anyone with access to the internet and an online stock broker, that dream has become a reality for many.
It's an exciting business to be involved with for sure but obviously not without risk. How you manage that risk will ultimately determine how successful you are but remember, finding good information and research is the hardest part.
And that's where a subscription to a good stock trading newsletters can really help…
Stock trading newsletters can be a great way to get in on the hot stocks by letting someone else do your research and information gathering for you. BUT…which ones to choose? There are quite a few stock trading newsletters that are  full of bullsh*t…so beware!

To help you weed out stock trading newsletter scams, we've checked out and reviewed a few of the more well known ones. Here are some stock trading newsletters that have some real potential.
————————————————————————————————–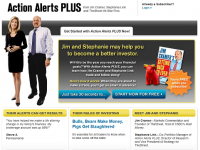 Action Alerts Plus is a newsletter by Jim Cramer & Stephanie Link of TheStreet All-Star Pros.
Jim is the guy who hosts CNBC's Mad Money show and regularly appears on the Today Show.
Since 2001, people have been following along with Jim's trades using Action Alerts Plus.
————————————————————————————————–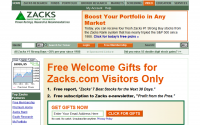 The Zacks newsletter has beaten the market in 19 out of the last 21 years and turned an initial $10,000 investment into over $2,000,000!
And that phenomenal success is based on a very simple formula…
Let the Zacks team do the in depth work for you while you just keep an eye on their easy to follow ranking system and follow it for all your investment decisions.
————————————————————————————————–
Click here to see our Review Disclosure Policy.