Average User Rating: Scottrade Review, 8.0 out of 10 based on 17 ratings (see user reviews):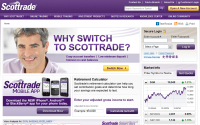 Website: www.scottrade.com
Fees: $7 / online stock trade. Options +$1.25 / contract. $17 / trade by phone, $27 Broker assisted.
Account Minimums: $500*
Transfer Fees: Up to £100 reimbursement on transfer costs.
Virtual Trading: Yes
Trading Platorm: Website, Mobile & Elite platforms
Tools / Resources: Investment education, know how news and interactive learning
Customer Service: J.D. Power and Associates has ranked Scottrade the 'Highest in Investor Satisfaction with Self-Directed Services'.
*$2000 for margin accounts.
Background: Scottrade are one of the best known names in online stockbroking, pioneering low cost commissions together with both core and advanced investment services.
Of course Scottrade is not only online but has over 300 branches dotted around the globe and also has a Chinese trading platform
Scottrade is a member of the Securities Investor Protection Corporation (SIPC), which provides protection for accounts up to $500,000 (including $100,000 for claims of cash) per client as defined by SIPC rules.
Pricing: Scottrade offer tiered pricing depending on your trading preference. Just $7 per stock trade if you trade yourself online. Pick up the phone and that rises to $17 and if you require broker assistance, make that $27. No-fee IRAs.
Types of Account: Scottrade offer the following accounts: Individual, Joint, Guardianship, Conservatorship,Trust, Partnership, Investment Club, Sole Proprietorship, Corporate Accounts, Broker Assisted, Traditional and Roth IRAs.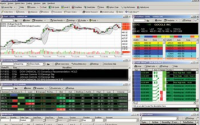 Trading Platform:As with other online brokers, Scottrade offer multiple platforms to suit all investors so you can take your pick from:-
* Scottrade Trading Website – trade directly from the website. No software to install. This will cover the majority of investors' needs.
* Scottrade Mobile – Trade on the go.
* Scottrate Elite – The full downloadable trading application with streaming quotes, customizable and savable sessions as well real time news.
Scottrade has an excellent trading 'community' in the form of a forum with groups, blogs and videos.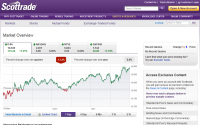 Tools / Resources: Scottrade has some of the best tools on the market. From investment basics to advanced technical analysis tools.
A monthly know-how newsletter and the ability to tailor the training resources to your exact needs via the interactive learning tools.
Complete 'help and how to' section guides you step-by-step through using their trading platforms, complete with screen shots, etc.
Virtual Trading: Scottrade offer a virtual trading account for their Elite downloadable trading platform.
Account Transfer: Scottrade offer $100 to cover the cost of transferring your account.
Click here to see our Review Disclosure Policy.
Scottrade User Reviews
GD Star Rating
loading...
Please rate Scottrade from your own experience via the comment form below:-